This blog post is part one of two. We recently sat down with Kim Eason, Manager of Communities@Work's Disability Programs, to chat about her journey and experiences around working in the disability sector, which she has been part of for over 25 years.
Kim shared beautiful insights about the rewards of working in disability support and life-skills building, her experiences then and now, and how she continues to make a difference, not only with her work in our organisation but also on a personal level.
Read below for an interview with her to get an insight into our Disability Programs, and what working in the sector is like. Explore current opportunities in our disability team here.
How Kim's Journey Began
Tell us what got you interested in the disability sector.
Kim: I started in the disability sector, I want to say 25 years ago, but it feels like it's been longer than that. I have pretty much grown up in and around the sector because I have an older brother with a disability, who has Down Syndrome.
Growing up, when my dad asked what do you want to do when you grow up, I always said to him that I wanted to work with people like my brother because I knew that they had so much more to give and the world was probably going to be a bit of a tougher place for him. So, I wanted to create that opportunity for people to do more and see what people were capable of and show the world what people were capable of. And that started me down the journey to where I am today.
How did you land up at Communities@Work?
Kim: Funnily enough, I applied for a role advertised for Communities@Work's Galilee School about seven years ago. That's actually when I didn't even know what the organisation did. And it wasn't until the school principal said to me, 'I think your skills would be better used in the disability program', that I joined the lifestyle services team.
By then, I had worked in lots of different areas of the disability sector – accommodation, respite, day programs, employment services, and just lots of different spaces. I joined Communities@Work not just as an opportunity to further my career, but also do something different to what I'd been doing for the seven years before that. I really wanted to get back into day programs, because I really enjoyed them when I was living up north, and I wanted to be able to improve people's skills. And so, when I found out about Communities@Work's Disability Day Programs, I decided to come on board.
Meaningful Change to Disability Programs
Photo: Kim at the Gardening Project with Disability Program Clients 
Much has changed in the past seven years. What are some of the key changes that you personally experienced or spearheaded?
Kim Eason: I was very passionate about skill-building and ensuring that our day programs were more than just providing care. When I joined, I researched what we did and how it was done. In the beginning, I felt that we were a little behind in terms of what we could do with our day programs. Since that first day in the service seven years ago, we have certainly come leaps and bounds and NDIS has played a role here as well.
I came on board right at the beginning of NDIS which helped us enable change. We were previously under block funding where everyone pretty much did the same thing. NDIS gave us the opportunity to look at what people's actual goals were, why they wanted to be here, and what they wanted to get out of the disability programs. So, we had lots of conversations with families, with clients, with staff, and we worked out a plan of where we wanted to go to, and we're still on that journey. We continue to take feedback and work with people on what they want our programs to be.
And what do the Communities@Work disability programs look like today? Particularly in contrast with what they used to be.
Kim: Nowadays, we have a strong focus on skill-building, and structure and organisation. I guess in the past it was a bit of a day where anything went, whereas now we have themed calendars. So, by the time you reach December from January, you have covered the whole of life in those themes. And that's what people wanted to and want to do – learn a range of skills across their entire life.
There's also the group setting. We now do things in smaller groups, instead of everyone goes everywhere and the one size fits all approach. We run workshops and activities according to small groups of people who have similar goals and interests. And that's hard to do when we're all different. But you can usually find something that's common with each person. And now we're also looking at doing more individualised goal focuses, but still in that group setting.
"From a bigger picture perspective, I guess one of the most important things is that a lot of people see a day program as a babysitting or carer service. And we show people that we aren't that anymore, that they are here for a purpose."
And they are getting something from the program rather than just filling time. It is about building their skills – whether life skills or social and recreational skills. So that was one of the big changes that we have made over the years – showing people that we're doing something meaningful, that we're carrying out more than a caring role.
---
Did You Know our disability support services cater to children, teens, young adults, and adults? We also help both NDIS and non-NDIS clients. Find out more about our Disability Programs here.
---
Working in the Disability Team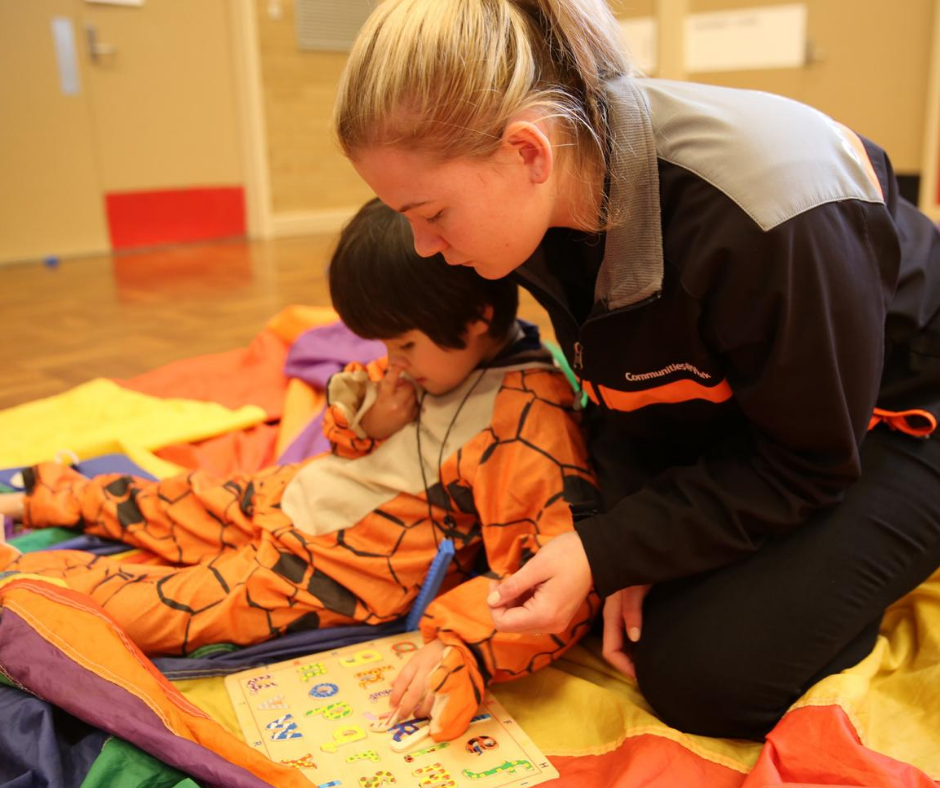 Photo: Malkara School Holiday Program (Disability Support for Children)
When you say more than a caring role, what sort of activities or workshops are typically carried out by the disability staff to achieve the purpose of the program?
Kim: While there's no such thing as a typical day program anymore, we do structure our programs in a way that there are peaks and troughs in the day where people engage in a good activity and then also have some downtime.
For example, people could start their day with a morning chat – our staff would talk to them about what the day looks like, what they're going to do, who's assisting them for the day, and so on. Then, they'll have morning tea together before jumping right into the workshop which could be anything from a 'sit down and focus' kind of thing to things like numeracy and literacy.
They might be learning a work skill or a life skill, they might be doing a sporting activity, art and craft, or something fairly active. And then they'll have some downtime, even do some mindfulness activities like meditations and journaling, before lunch. After lunch, some people tend to go home while others prefer to stay for another workshop or activity.
Regardless of the type of workshop or activity, something that is common across them all is that it's something that's going to help the people attending to achieve a goal, whether that's physical, emotional, or intellectual, whatever it looks like for them.
So, our staff are expected to be well-versed in not just working with people with a disability, but more than that, in running workshops, sessions and activities that engage the people and encourage their life-skill building. That is one reason why we refer to them as Life Skill Educators and not Disability Support Workers.
It doesn't sound easy at all. Yet, you seem quite content. What is your favourite thing about working in the disability sector?
Kim: I think, not just for me, but for anyone working here, it's ultimately about the rewarding nature of the role. I'll tell you a recent story, that made me feel so proud and incredibly happy for the work that we're doing here to support people living with a disability.
There is this young girl who really likes attending our disability programs and has learnt a lot of skills. When she first came to us, she had isolated herself in her room for such a long time, after having lost a significant family member. One of her parents wasn't doing so well – health-wise – and she had become quite reclusive. She didn't want to do anything or see anyone. She wouldn't even walk to the kitchen to get her dinner. When she was referred to us, I didn't even know how it might go, but we decided to give it a shot.
Three months later, when the person that referred her visited our program and saw this young girl for the first time in three months, she was stunned and so happy. The girl was walking about the centre, she was taking her plate to the kitchen, asking questions, and interacting in an activity that was going on.
The lady visiting asked me, 'How did you get her to do this? What magic did you work?'
"And really, it's not about magic. It's just helping her find her voice and to help her to see that there are other people around her that will support her and that she can do things beyond the four walls of her room even after a significant loss in her life."
So, I guess, seeing people come to our workshops, contribute, and grow, and just watching them transition through our programs, it's exciting and rewarding. The progress and skill-building – seeing how much they have grown and changed in X number of months or years is truly amazing.
---
Want to be a part of creating a positive impact in the community? We're currently recruiting for a Life Skills Educator Role for our Disability Team. Find out more on our Careers page here. 
---
What's Next
Thank you, Kim! We are excited to find out more about such heartwarming experiences, and also take a little sneak peek into what you do for the sector – yes we're referring to your podcast!
Photo: Art Project at our Disability Program
Stay tuned for Part 2 of the Interview with Kim Eason, where she talks more about her experiences in the programs, and her personal contributions to the disability sector and making a difference, including her very own podcast.