Out of School Hours Care (OSHC) Services
Communities at Work operates 18 Out of School Hours Care (OSHC) services across Canberra. These services provide before and after school care and school holiday programs. This page provides information for our before and after school care services.

About Our Before and After School Care
Communities at Work's Out of School Hours Care (OSHC) services, or before and after school care, focuses on children. We place each child at the centre of our practice and deliver high-quality programs to foster children's emotional well-being, social skills, communication and confidence.
Our passionate and experienced educators deliver quality care with engaging and exciting activities for your child. We focus on making your child smile through fun and play that encourages them to meet new friends, try new things, and participate in excursions and incursions.
Operational Information
Our before school care programs operate weekdays from 7-7:30 am (depending on service) until school starts. Before school care is about helping your child have the best possible start to their school day by offering fun recreational activities and a nutritious healthy breakfast menu. Children help to create their own play spaces and we encourage them to serve themselves and their peers to develop their life skills.
Our after school care programs operate from 3-6 pm. Educators assist younger children in transition across from their classrooms where needed. We provide your child with a nutritious afternoon tea and offer a range of recreational games and activities built around your child's interests and designed to allow your child to have fun.
All our services are approved for Child Care Subsidy (CCS). Find out more about CCS and other relevant information to our children's services at our Frequently Asked Questions.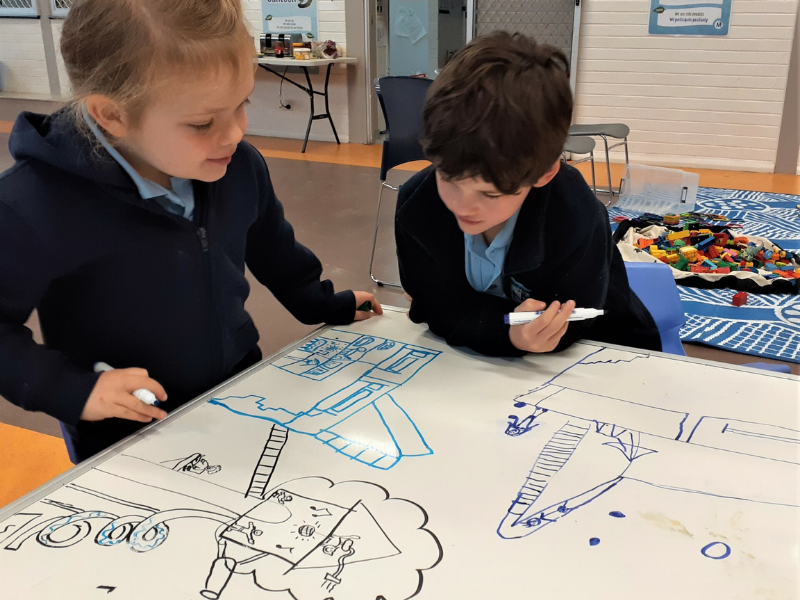 Stories from our OSHC Services
Our Before and After School Care (OSHC) educators were so impressed with the mental health and wellbeing concepts and training tools they learnt on the BeYou website that they were keen to implement these concepts with the children in their OSHC services.
So, Beatrice, the BeeYou Bee was born: a soft toy mascot and a safe haven for the children to talk to about their mental health and emotions, and a tool that allowed educators to effectively speak with families.
Beatrice was given an 'itinerary' and toured 14 of our OSHC services, spending a week at each site being involved in all their activities – whether that was a spot of yoga together, reading a book, playing hide and seek, cooking or riding a bike.
The children loved writing in Beatrice's journaling book, documenting their weekly experiences and taking photos. Some children even made beehive post boxes and wrote letters to put into the hives so when Beatrice was away, they could still ask her questions.
This story is just one of the many ways our out of school hours care services make a difference in the lives of children and nurture a safe, supportive, and fun environment for children. 
What Families Say
"The support your educators offered my family when we were unexpectedly faced with a health crisis last year with our son was phenomenal. From monitoring the emotional wellbeing of our children while their brother was interstate for surgery, to keeping a vigilant eye on my son during his long recovery when he returned to the program, and even providing a supportive ear and a shoulder to cry on for me as a mum, whilst in the thick of the unknown. The educators have been able to provide a culture and a sense of belonging for our children where they feel OSHC is a 'home away from home' and the educators like an 'extended family'." – Parent, Fadden Out of School Hours Care
"The staff at Wanniassa Hills OSHC take the time to read and implement the reports, strategies and interventions provided by allied health professionals for our seven-year-old boy with complex needs: gross and fine motor delay, autism and anxiety. The OSHC coordinator has even met with our son's psychologist and school teacher to ensure the best possible outcomes for him. The educators have included him in every aspect of the service and allowed him to be himself. They are an important part of his life, a huge part of his support system and a part of our extended family." – Parent, Wanniassa Hills Out of School Hours Care
Why Choose Us
Communities at Work creates fun, welcoming and safe environments with your child – a place for children to meet and make new friends, explore new experiences and grow into confident and capable young people. Our educators are committed to ensuring our Out of School Hours Care services are a fun and happy place your child really loves.
Each before and after school care service is tailored to the nature of the school environment and the interests and needs of the children that attend; and we aim to exceed all standards in the National Quality Framework and align with the Early Years Learning Framework and the My Time, Our Place Framework.
Watch: Our Out of School Hours Care team gives an insight into the services
Contact Information
Find a before and after school care service for your children's school using our search functionality here. 
Get in touch with us here. You can also email us on admin@commsatwork.org or call us on 02 6293 6500. 
If you're ready to enrol your child, click the button below to submit an enrolment enquiry.