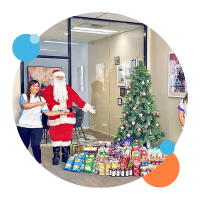 Group Donations
We encourage groups (workplaces, businesses, shops, community groups etc) to host a 'Giving Tree' ie. a Christmas donation drive to raise funds or collect donations of food (non-perishable) and gifts (new items only).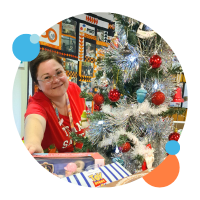 Individual Donations
As an individual you can donate food, gifts or toys for both adults and children – or even money – to help people in need by sending your donations directly to Communities at Work. Check our list of drop-off points to find one close to you. (Scroll further down this page).
Other ways to donate food, gifts or money.
Make a Tax-Deductible Donation

Donate money online to our website. We will then use that money to buy gifts and food for people who are doing it tough. All financial donations of $2 and above are tax-deductible. 

Host a Giving Tree

Register to become a Christmas Appeal giving tree host to collect donations of gifts and food at your workplace, shop or community space.

Here are some useful resources:

Send us a Gift Card

We always need more gifts for teenagers and adults. A gift card might be a good option.

Tip: It's best to buy the gift cards in $20-$30 lots.

Email us an e-gift card at admin@commsatwork.org.

Post us a gift card to Communities at Work, PO Box 1066, Tuggeranong ACT 2901, or

Drop it off at our Tuggeranong or Gungahlin Community Centres. 

Donate food to our pantries

Communities at Work's community pantries at Tuggeranong and Gungahlin support people who are going through tough times and need food and personal care items.

Here's a list of suggested items to donate. You can also download the pdf list here.

Donate to Mix106.3's 'PACK THE BUS'

Once again Communities at Work are thrilled to partner with MIX106.3 and Transport Canberra  for their 'Pack the Bus' fundraising drive. Help us pack a bus with essential food items and gifts for people in need.

"Pack the Bus" hits the roads from 27 November – 15 December 2023 and drives around the region to collect donations for our Christmas Appeal. The brightly coloured Transport Canberra bus will be hard to miss!

Want the bus to stop at your place and collect your donations?

Distribute our Christmas Tree Donation Tags

Display our Christmas Tree printed tags at your reception area – or hang them on your Giving Tree for people to collect. These tags have a QR code so people can easily donate online to our Appeal.


Contact us and we'll send you a bundle of tags (phone 6293 6500 or email marketing@commsatwork.org) or download a printable pdf sheet here. 
---
Frequently Asked Questions: Christmas Donations
What sort of donations do you need?
You can download the donation list here. We're often short of Christmas food and gifts for teenagers and adults. If stuck for ideas, gift cards are useful ($20-$30 lots). Even e-gift cards (so you don't even need to leave your home to help us!)
Where do I bring my Christmas donations?
You can drop off your donations at the below sites.
ACTON:

Australian Academy of Science ( Ian Potter House, 9 Gordon Street, Acton)

BELCONNEN:

Housing ACT (Ground floor, Nature Conservation House, Cnr of Emu Bank and Benjamin Way Belconnen).

BRADDON:

Goodstart Braddon (41 Torrens Street, Braddon, ACT, 2913).

CANBERRA AIRPORT:

Skin Solutions Canberra (8 Brindabella Circuit, Canberra Airport, 2609).

CITY

: Telstra Foyer (18 Mort St, Civic).

CITY

: EMA Advisory (Level 1, Jaga Workspaces, 33 Allara St, Civic)

CITY

: Colliers Canberra (Level 8, 68 Northbourne Ave, Civic)

DEAKIN

: The Psych Hive (4/8 Phipps Close, Deakin)

DENMAN PROSPECT

: Supa-Express Denman Village (Felstead Vista, Denman Prospect)

FYSHWICK

: Capital Recruit (Unit 7/1 Pirie Street, Fyshwick).

GARRAN

: Accelerate Physiotherapy (Unit 9/2 Garran Place, Garran)

GREENWAY

: Communities at Work Tuggeranong

 (Tuggeranong Community Centre), 245 Cowlishaw Street, Greenway 

(open Mon-Fri, 9 am – 4 pm)

 

GUNGAHLIN

: Gungahlin Village Shopping Centre (downstairs near Reject Shop and Coles)  OR Communities at Work

(in Gungahlin Community Centre), 47 Ernest Cavanagh Street, Gungahlin (

Mon-Fri, 9 am – 4 pm)

.

KAMBAH

: Communities at Work Taylor Child Care and Education Centre ( 88 Marconi Crescent, Kambah. We're on the left side of main footpath. The primary school is on the right).

LYNEHAM

: Netball ACT (ACT Netball Centre, 435 Northbourne Avenue, Lyneham).

MACQUARIE

: Accelerate Physiotherapy ( Unit 106/4 Henshall Way, Macquarie).

Mix 106.3 Pack the Bus: 

Register here for Pack the Bus to come to you!

NGUNNAWAL: 

Communities At Work, Ngunnawal Child Care and Education Centre, 111 Wanganeen Ave, Ngunnawal).

RICHARDSON

: Communities at Work Richardson Child Care & Education Centre, (40 May Gibbs Close, Richardson).

WANNIASSA:

Communities at Work, Illoura Child Care & Education Centre (20A Creaman Close, Wanniassa – behind Erindale College and Erindale Shops).

WANNIASSA:

Communities at Work, Appletree House Child Care & Education Centre (20B Creaman Close, Wanniassa – 2903)

WESTON CREEK:

Communities at Work Weston Creek

(

172 Dixon Drive, Holder, Mon-Fri 9 am-5 pm

)

WESTON CREEK:

Cooleman Court Shopping Centre (downstairs in centre court. Look for big red box).
We're regularly updating this list so keep an eye for a location close to you.  
If you have further questions or concerns, you can contact us via our  Get in Touch page or email us at  admin@commsatwork.org.