Galilee School Senior Secondary College Year 11 and 12
Galilee School is establishing a Senior Secondary College in 2021-22 to offer a boutique range of accredited (A) subjects to enable students who struggle in mainstream school environments to achieve their ACT Senior Secondary Certificate. Year 11 will start in 2021 and Year 12 in 2022.
Why a Galilee School Senior Secondary College?
We are looking to establish the Galilee School Senior Secondary College for Year 11 and 12 students, as we believe there is a need in the ACT for a Special Assistance School that operates at the senior secondary level.
We have identified that our Year 10 students were leaving us with firm transition plans in place, but many were not thriving once they moved back into mainstream schools or went on to further training opportunities.
The Galilee School Year 11 and 12 (Senior Secondary College) will offer a boutique range of accredited (A) subjects that have been strategically identified with the support of the ACT Board of Senior Secondary Studies (BSSS) to enable students to achieve their ACT (Year 12) Senior Secondary Certificate.
Our boutique program is planned to have up to 25 enrolments in Year 11 in 2021, leading to a total enrolment of 50 students in Year 11 and 12 from 2022 onwards. The learning program for Galilee School Year 11 and 12 students will be responsive to the individual student's needs, and will provide students with significant support and adjustments as needed. It will enable teachers and support staff to work intensively with each student.

Note: This handbook is not fully complete, with some information to be finalised in early 2021.
What Our Staff Say
"What drew me to applying for a job at Galilee was the passion for helping young people as unique individuals. I was inspired by the dedication and commitment of the staff towards positively engaging with the young people who come here to reconnect with learning. " 
– Raylene Power-James, Teacher
"There are so many reasons I love working at the School but I guess if I had to choose, I would say that it is the relationships that are the key for me.  Relationships are key to the work we do with our students and the school provides us with the opportunity to build close relationships with students."  
– Lisa Hivers, Head of Teaching and Learning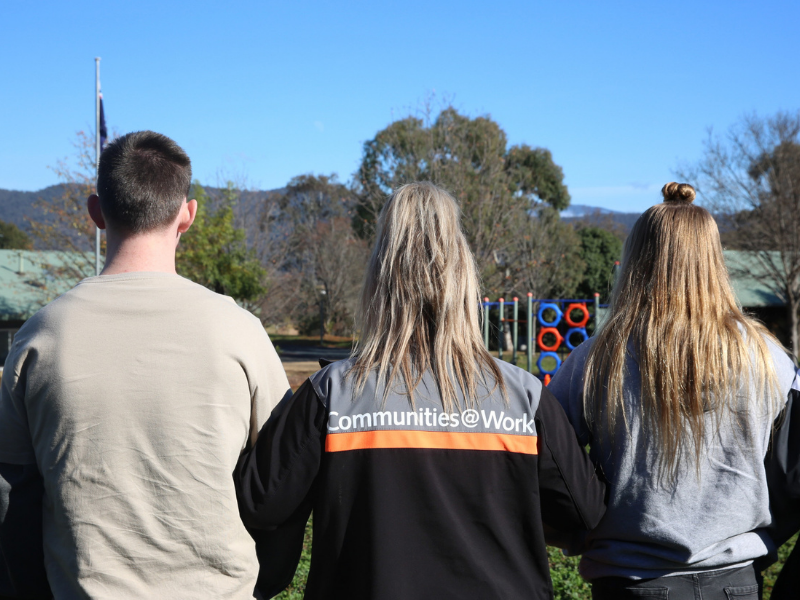 Curriculum Journeys
Subject to staffing availability, we intend to offer two study options for a student's learning journey towards their Senior Secondary Certificate. Each of these options has capped placement numbers based on the resources of the school.  
Learning Journey 1
Contemporary English A 
Contemporary Maths A 
Timber Products A 
Construction Pathways A 
Learning Journey 2 
Contemporary English A 
Contemporary Maths A 
Hospitality A 
Interdisciplinary Inquiry Project A 
To qualify for a Senior Secondary Certificate students need to attend 90% of classes in each unit and complete at least 70% of their assessments for each unit across a semester. 
Proposed Timetable Structure 
Morning classes will run from 9 – 12pm (one 'block') and afternoon classes will run from 12:30 – 3:30pm (another 'block'), with structured breaks built in by classroom teachers.  
Each full-time student will be expected to attend 4 block classes per week (each block is three hours). For most students these classes will take place over two full days. 
A third day each week will be a supported study day, where each student can opt to attend school to access "study support" and complete their flexible classes or catch up on other work with school staff available to support.  
The remaining 1-2 days in the week will be allocated to work experience, volunteering, or an ASBA or vocational training (where appropriate). 
We will also support students to engage in work experience, VET courses, ASBAs, volunteering and other community–based activities as appropriate. 
Find out more about our Teaching and Student Support Philosophy here.
Senior Secondary College Locations
2021
All Year 11 students will be at Holder for most classes. Construction and Timber Products classes will be held in the workshop at the Kambah campus. There will be no Year 12 program in 2021. 
2022
All Year 11 students will be at Holder for most classes. Construction and Timber Products classes will be in Kambah. All Year 12 students will be based at Kambah. All students will move to the new purpose-built campus facility at Kambah midway through 2022.