Run a food or CANstruction drive
Donate Food and Other Essentials to Support Our Community Pantry
Communities at Work's food programs operate at our two community pantries – Tuggeranong and Gungahlin. Our community pantries support the vulnerable and disadvantaged members of the Canberra community in need of food and personal care items.
Our pantries receive no ongoing ACT or Australian Government funding. We rely on strong corporate and community support through sponsorships, philanthropic grants, fundraising and donations, along with our food rescue program and supplies from Food Bank, to stock the pantries.
Every year, we support almost 15,000 vulnerable people who come to our community food pantries to access free and heavily discounted food, household products, and personal care items. And we need your help to continue providing this support! Demand for food has doubled in the last year, with 500 households a month asking for food help at our pantries.
We need donations of food including everyday meals, baby needs, tinned food etc. We also need donations of essential items to keep our community pantries stocked, such as hygiene products and cleaning products.
What to Donate
We will gladly accept donations of food and essential items for: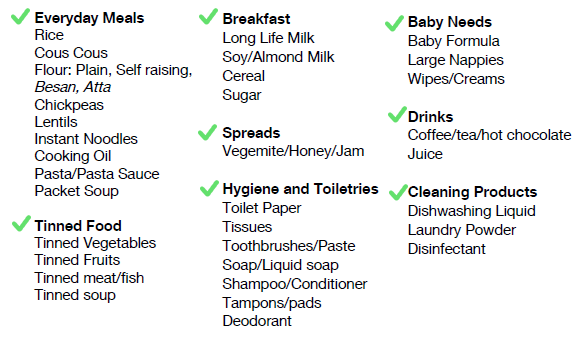 You can also download our shopping list of items we need (pdf).
---
Where to Drop Off Your Donations
Tuggeranong Community Centre, 245 Cowlishaw Street, Greenway. Mon – Fri 9 am – 4 pm.
Calwell Shopping Centre, 7 Webber Crescent, Calwell.
Cooleman Court, 

Brierly St, Weston ACT 2611. (Ground floor, near the elevator) 

Gungahlin Community Centre, 47 Ernest Cavanagh Street, Gungahlin. Mon-Fri 9 am – 4 pm.
Gungahlin Village, 46 Hibberson St, Gungahlin.
Gungahlin Marketplace, 33 Hibberson St, Gungahlin.
---
Organise a Food Donation Drive
Host a food drive and ask your colleagues, neighbours or friends to donate food. 
We have a list of suggested food to donate based on what our pantry clients need.  Please see our Food Donation Drive toolkit for tips and resources. Alternatively, you can phone us on 6293 6500, email socialprograms@commsatwork.org or use the  Get In Touch button on our website.
If you're part of a larger group, have extra fun by running a CANstruction food drive. Have a friendly competition between each team in your organisation to see who can build the most creative construction from donated food cans and other essential items. Set a theme or and award prizes for the most creative structure, most cans, or healthiest food collected, etc. And of course, all food gets donated to our community pantries.  A win-win! 
---
Make an Online Food Donation
You can donate food by placing an online order for delivery at our food pantry.
Due to the implementation of increased social distancing measures to minimise the risk of the COVID-19 (Coronavirus), you may wish to place an order online. Your donation will then be delivered straight to our community food pantry in Canberra.
Please use the following delivery address and ensure your order is booked to arrive Monday – Friday between 9 am – 4 pm.
Communities at Work. Tuggeranong Community Centre: 245 Cowlishaw Street, Greenway ACT 2900
You can place an online order for the food and groceries you wish to donate to be delivered to the community centre, from Catch, Coles, Woolworths or any grocery service of your choice.
---
Make a Financial Donation
If you prefer to make a tax-deductible financial donation, you can DONATE MONEY directly to Communities at Work (donations will be used to purchase essential items for our community pantry).
---
Communities at Work has a commitment to the Canberra community. We aim to ensure we can continue to provide our essential community support services for food, clothing and accommodation to everyone in the community who needs our help. 
Your support, whether you choose to make a monetary donation, or donate food and other essential items, will help put food on the table for vulnerable and disadvantaged members of the Canberra community and meet their everyday needs. If you're unsure how to drop off your donations, please don't hesitate to get in touch. 
---
Our community pantries are open 9 am to 3 pm Monday to Friday and help people experiencing hardship with free and discounted food, assistance paying for medical scripts (capped) and other services, including information and referrals to other support services in Canberra.
Find out more about how we help the Canberra community through our pantries and other support programs. 
Find out more about our Sustainable Food Rescue Program.
Click here to explore the different ways you can get involved with Communities at Work and support our local not for profit community services, through a range of options.
Get in touch for more information.