Donate Food and Other Essentials to Support Our Pantry
Communities@Work's food programs operate at our two community pantries – Tuggeranong and Gungahlin. Our community pantries support the vulnerable and disadvantaged members of the Canberra community in need of food and personal care items. Our pantries receive no ongoing ACT or Australian Government funding. We rely on strong corporate and community support through sponsorships, philanthropic grants, fundraising and donations, along with our food rescue program and supplies from Food Bank, to stock the pantries.
You can donate food and other essential items including hygiene products to our community pantry. Your support will help put food on the table for vulnerable and disadvantaged members of the Canberra community and meet their everyday needs. We appreciate and gladly accept donations at several other locations around Canberra through our donation collection bins, or at our Tuggeranong and Gungahlin sites. We also run a Christmas Campaign to collect Christmas Donations and bring joy to families and individuals across Canberra.
Alternatively, you can make a monetary donation directly to Communities@Work which will be used to buy supplies for our Community Pantries, and help support the vulnerable and disadvantaged members of our Canberra community.
Due to the current COVID-19 (Coronavirus) situation, the disadvantaged members of our community are finding it difficult to meet their everyday needs. We have also experienced a reduction in food donations and item donations for our community pantries due to the recent panic buying. 
If you want to help, now is the time. You can drop off your donations at several of our donation bins and drop off points in Canberra. Please see below for some of the items we need for our pantries.
We would appreciate donations of the following items: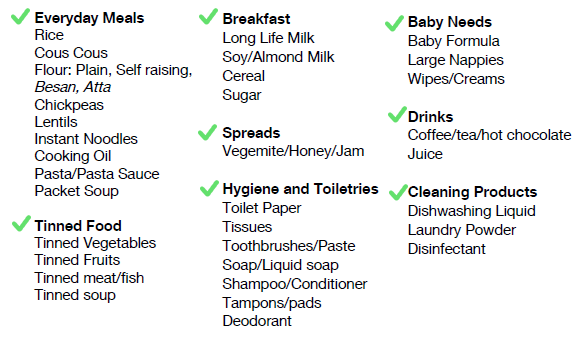 Download our Shopping List of items we need
---
Donations are gratefully accepted at:
Tuggeranong Community Centre, 245 Cowlishaw Street, Greenway Mon – Fri 9 am – 4 pm.
South.Point Tuggeranong, Anketell St. &, Reed St North, Greenway ACT 2900. (Look for the orange wheelie bins!)
Cooleman Court, 

Brierly St, Weston ACT 2611. (Ground floor, near the elevator) 

Gungahlin Community Centre, 47 Ernest Cavanagh Street, Gungahlin Mon-Fri 9 am – 4 pm.
Gungahlin Village, 46 Hibberson St, Gungahlin ACT 2912.
Donations can also be made to year-round collection bins at:
Calwell Shopping Centre
Gungahlin Marketplace – outside Woolworths
---
Donate Food and Gifts for Christmas
Several families and individuals around Canberra struggle to meet their everyday needs. You can brighten up their Christmas by bringing them joy with food and/or gifts. Head over to our Christmas Appeal page to find out more about how you can assist us in Christmas Donations. We're currently open to registrations for hosting giving trees.
---
Donate Food by Placing an Online Order for Delivery at our Food Pantry
Due to the implementation of increased social distancing measures to minimise the risk of the COVID-19 (Coronavirus), you may wish to place an order online. Your donation will then be delivered straight to our community food pantry in Canberra.
Please use the following delivery address and ensure your order is booked to arrive Monday – Friday between 9 am – 4 pm.
Communities@Work. Tuggeranong Community Centre: 245 Cowlishaw Street, Greenway ACT 2900
You can place an online order for the food and groceries you wish to donate to be delivered to the community centre, from Catch, Coles, Woolworths or any grocery service of your choice.
---
If you prefer to make a financial donation, you can DONATE MONEY directly to Communities@Work (donations will be used to purchase essential items for our community pantry).
---
Communities@Work has a commitment to the Canberra community. We aim to ensure we can continue to provide our essential community support services for food, clothing and accommodation. 
Our community pantries are open 9 am to 3 pm Monday to Friday and help people experiencing hardship with free and discounted food, assistance paying for medical scripts (capped) and other services, including information and referrals to other support services in Canberra.
Find out more about how we help the Canberra community through our pantries and other support programs. 
Find out more about our Sustainable Food Rescue Program.
Click here to explore the different ways you can get involved with Communities@Work and support our local not for profit community services, through a range of options.
---
---
Get in touch for more information.