Home
New and Emerging Communities
New and Emerging Communities
Enabling Capacity Building and Asset Based Community Development in New and Emerging Communities is a key area of focus for Communities at Work's Community Development Team.
Our Work
Canberra's population surged past 420,000 in 2019 – the second-fastest growth rate in Australia.  This growth continues to drive the development of new suburbs.  We work in the space of new and emerging communities to facilitate connections, as well as a sense of shared community resources.
We have worked and continue to work with ACT Government, property developers and other stakeholders on a variety of community initiatives that have enabled residents to connect with each other and build networks and resilience as foundations of growth.
Initiatives have included Plant Swaps, Playstreets, Creative Craft Challenge, Trivia Nights, Gardening Workshops, Handyman Workshops, Yoga, Morning Teas, and a whole host of activities and events across the new and emerging communities in Forde, Bonner, Molonglo Valley, Denman Prospect.
Denman Prospect
Communities at Work has been working with Denman Prospect for several years, and in 2020 we received a formal contract to provide community development services.
Due to COVID-19, the practice of physical distancing means that many community members have changed to schooling and working from home, using the digital world to replace activities that they would usually engage in among other people.  Creative approaches to community development have become necessary.
About Denman Prospect
Located between Mount Stromlo and the National Arboretum, Denman Prospect is located in the Molonglo Valley.  The suburb is being developed by Capital Estate Developments, a subsidiary of Capital Property Group, which also developed and owns the Canberra Airport precinct.
Denman Prospect has exceptional public amenities including a P-10 government school, an Early Learning Centre, state of the art shops at Denman Village, healthcare facilities etc. The suburb is also home to the Denman Village Community Centre (opened in March 2022), the first purpose-built facility for community organisations and groups in Molonglo Valley.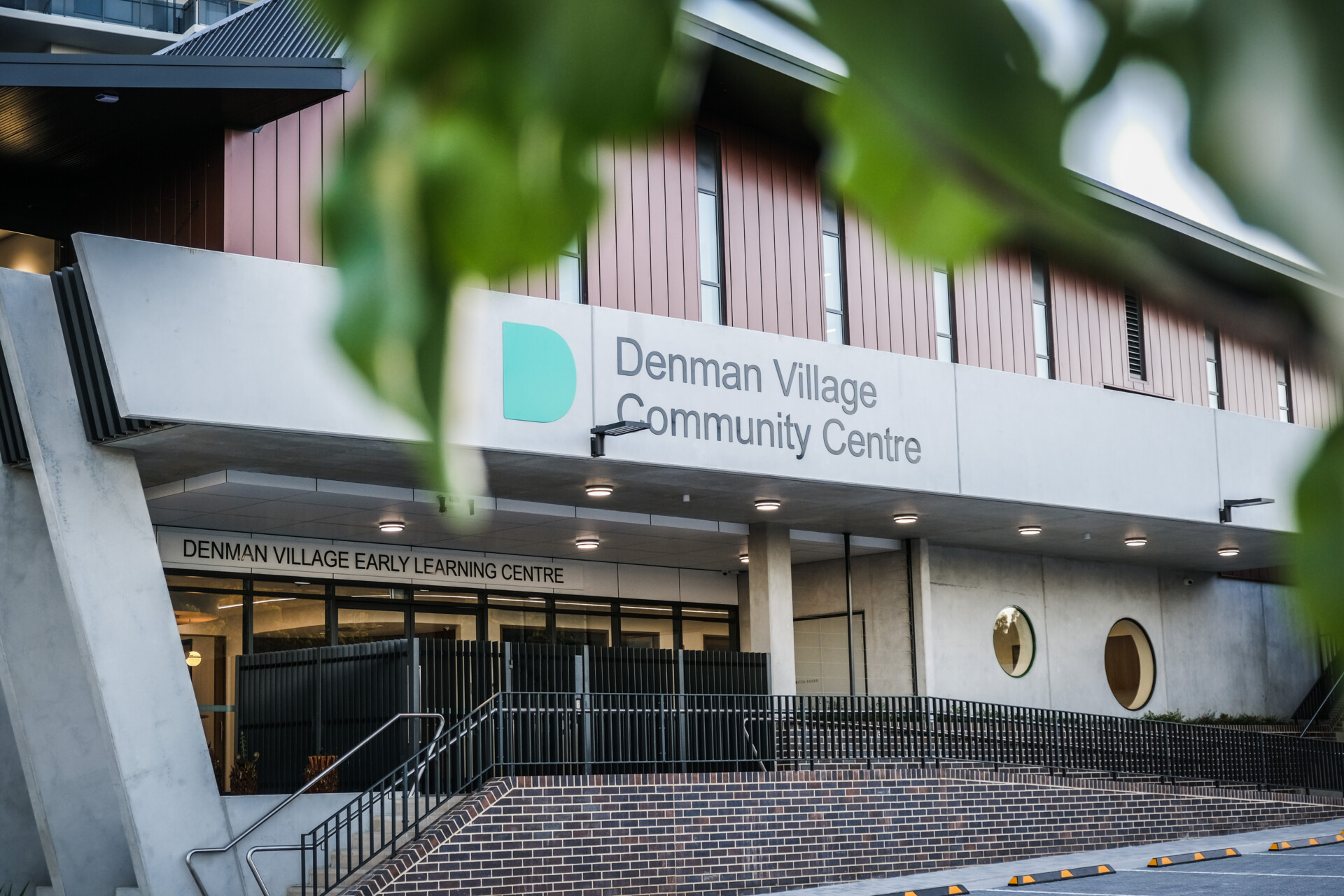 Community Space in Denman Prospect
Please click here to visit our room hire page and fill out the expression of interest form there if you'd like to hire space at the Denman Village Community Centre. 
The official opening of the Denman Village Community Centre represented the culmination of many years of hard work. With the Centre's official launch in March 2022, we hosted a special event to commemorate the occasion.
Communities at Work is proud to be working closely with Capital Estate Developments and Denman Prospect residents to support the development of this fabulous community, in which the Denman Village Community Centre plays such an important role.
Like Communities at Work, Capital Estate Developments has a strong commitment to community development, demonstrated by its investment and partnership with Communities at Work. Communities at Work has a long history of developing new and emerging communities in the ACT region, and our Community Development team worked closely with Capital Estate Developments to facilitate community connections and enable residents to build the essential foundations for a strong, resilient, and thriving community.
The Denman Village Community Centre will play an important role in this and provide the community with an important space for activities, events and community connections. Communities at Work also ensured to create a welcoming space that respects and celebrates the traditional owners of the land on which the centre is situated.
We worked closely with Bradley Mapiva Brown and Bagariin Ngunnawal Cultural Consulting as part of our ongoing commitment to walk alongside Australia's first peoples and to learn from and acknowledge the Aboriginal and Torres Strait Islander peoples, past, present and future. Bradley's artwork, titled Ngunnawal Waterhole Dreaming is on display in the foyer, and all the centre rooms have been named by Bagariin Ngunnawal Cultural Consulting and the Winanggaay Ngunnawal Language Group to reflect the local environment surrounding the Denman Village Community Centre.
We are mindful that the Molonglo Valley has lacked facilities like this for a number of years, and so anticipate there may be strong demand with competition for venue hire at the Denman Village Community Centre, managed by Communities at Work.
Please use the expression of interest form on our room hire page to submit your interest in hiring space at the Denman Village Community Centre. Please note that the form constitutes an expression of interest only, and does not guarantee bookings.
Molonglo Valley Playgroup Network
We have developed the Molonglo Valley Playgroup Network for the coordination of playgroup and related activities in the Molonglo Valley area.
After helping start playgroups in Denman Prospect and an associated Facebook group, we realised that beyond the existing Denman Prospect Playgroup, there is a wider group of families in the Molonglo Valley that are not all available on Friday mornings.
The Molonglo Valley Playgroup Network would be interested in any playgroup-related activities in the region, so please contact us if like your group to be included in the network:
communitydevelopment@commsatwork.org
Playgroups can come and go, and availability can often change, so we advise the community to update the central Molonglo Valley Playgroup Network Facebook Group with the latest information and refer to it for updates.
Facebook Group Links
Community members are encouraged to use the Playgroup Network as a platform to start new initiatives, like new playgroups, paint and plays pram pushers, mums and bubs, even just playground meets. Please access the group(s) and update information here:
Denman Prospect Playgroup: currently running on Friday mornings
Other local groups will be added to this list soon. These groups are also linked to one another on Facebook.
Please note: The Molonglo Valley Playgroup Network is intended as a place to share and discuss anything relevant to playgroups or other gatherings of young families in the Molonglo Valley.
Contact Information
Email: communitydevelopment@commsatwork.org
Phone: 02 6293 6597
You can also contact us via the Get in Touch form here.